Every business owner faces the same problem – balancing the tasks that earn you revenue today with the tasks that could earn you revenue tomorrow. How do you install enough heat pumps this week while also following up leads and presenting quotes to ensure you will still be installing heat pumps next week?
Everyone knows that marketing and following up is essential – but it often feels like a necessary evil that takes up far too much of your time.
This is especially true if you are still using a paper-based system, word templates or spreadsheets.
These traditional ways may still work well if you are only dealing with a few customers at a time and you only want to have that many customers. However, if you are keen on growing your business and expanding that customer database, you should definitely look for quoting software.
Using quoting software helps you to send professionally-made quotes that will impress your customers, thereby increasing the potential for you to get the job, while you get to save hours of working to spend on other tasks of the business.
If you're looking for the right quoting app for your business, whether a one-man-band or an enterprise, here are our suggestions.
Quotient
Overview
Quotient, as its name suggest, is designed to free you from all the hassle of quoting. From creating a quote, sending it to your customers and discussing the options, you can do everything you need to close the deal with Quotient.
Features and Benefits
Quotient has a lot of features designed for each task and step in your process.
Creating a quote is relatively easy with Quotient. Everything is included in one screen where you can start with looking up your customers, name the quote, design, and send it.
Special features include:
Adding photos to your quote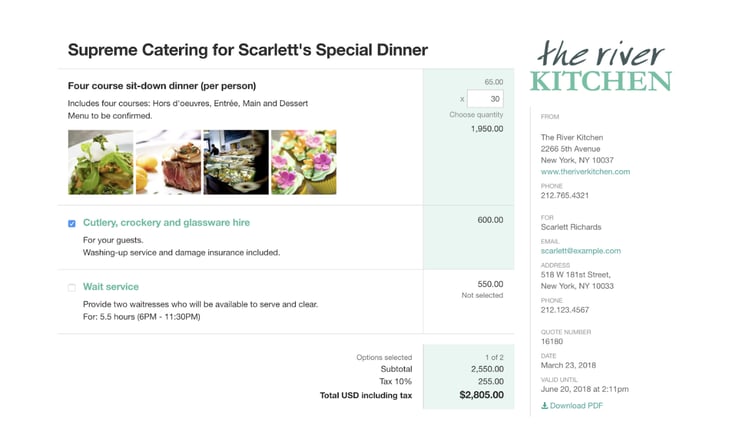 Offering various options for your customers to choose from

Once the quote is sent, the system will also notify you when it is time to follow up with your customers
To keep the conversation going, the customer can also ask you a question and get the answer directly on the quote. When it's time to close the deal, they can easily check the box and accept the quote.
Accepting the quote on Quotient gives you peace of mind as this is not just a verbal "ok". After your customer accepts your quote, a confirmation email will be sent to them right away.
Quotient Can can also be integrated with other software such as Xero or Mailchimp to support the sale and customer experience system of your business.
Pricing
Quotient pricing is very straightforward. You have two options, both come with an unlimited number of quotes and support. You always get an unlimited number of quotes and support with both types of subscriptions.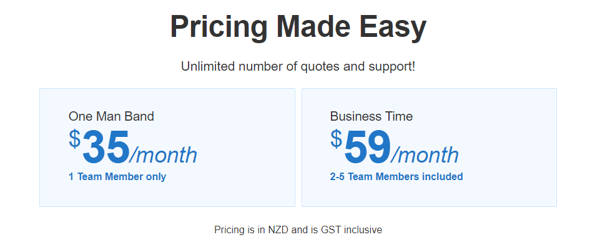 The two options are for a one-man band and for a small team of 2-5 people. With every additional staff, you will be charged $8 NZD per month.
Xero Ecosystem Partner of the Month
This is what Xero had to say about Quotient:
Quotient has created an absolutely first class quoting and proposal solution we're proud to have in our ecosystem, which lets you create, send and manage quotes online.
When integrated with Xero, there's no more double handling. Your quotes can be populated with real-time information from your Xero inventory and once a quote has been accepted, a Xero invoice is created automatically.
What stands out about Quotient
Our customers rave about the integration and for many, it's become an essential part of running their business. A quick read of Quotient's five star reviews shows how simple this beautifully advanced software makes it to create professional quotes and save hours of admin.
"Massive time saving every week and an instant and sustained spike in [our] sales. Beautifully designed, thoroughly thought-through and brilliantly simple to use…Quotient has totally nailed it!" Mark Tolley
Customers praise Quotient for its:
Customer-focused, friendly approach

Ability to communicate with customers in real-time and know exactly when, or if, a client has opened a quote

Accessibility anytime from anywhere, online

Beautiful templates that offer customers the wow factor when they receive quotes
iTrade
Overview
iTrade is more than just a quoting app. It is all-in-one job management software for tradesman.
Specifically designed for trades, iTrade offers customised solutions from quoting to invoicing, job scheduling, automating timesheets and other management tasks for tradesmen including electricians, plumbers, airconditioning, alarm technicians, builders, and locksmiths.
If you are operating in one of these industries, you have found the perfect software!
iTrade offers the ability to email a PDF or send a link allowing customers to view, accept options, send a note/ask a question or accept.
Customers can also download a PDF from the link. Tradies can then see the time and date that their customers viewed or accepted their quote.
iTrade also offers 8 different ways to display pricing, 4 ways to display tax (GST, VAT, Sales Tax or No Tax) and a "Traditional" or "Contemporary" layout, adding up to 64 different views.
Features and Benefits
iTrade's quoting features come in handy with everything you need to get the job from setting up the quote with itemised pricing, preset reply email, to default expiry dates and reminders. Once the quote has been accepted, iTrade also includes invoicing software for tradies.
iTrade can simplify the quoting process and produce professional & beautiful looking quotes.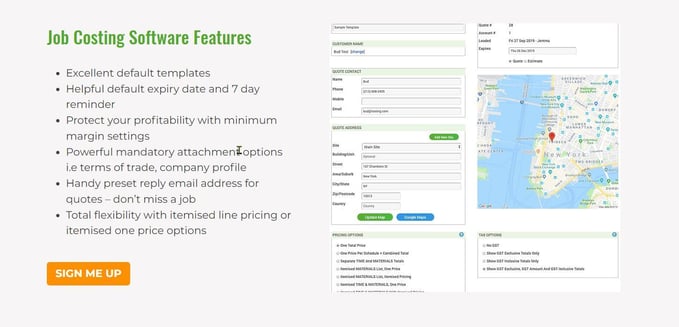 In addition to quoting, iTrade can also help you with:
Job scheduler: Arranging jobs for clients will no longer be a hassle with iTrade's real-time calendar.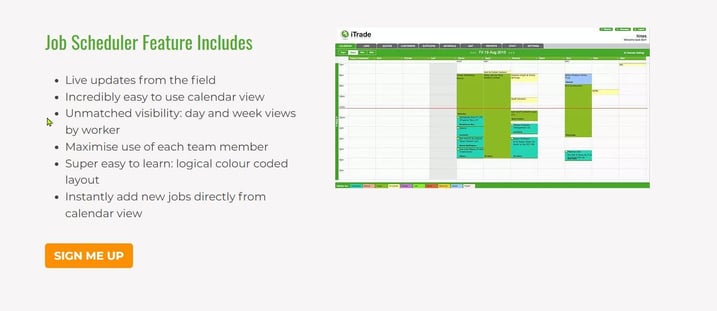 Automated timesheet: no more manual timesheet that requires hours to manage, automated timesheet ensures that you get the job time accurate right in the first time.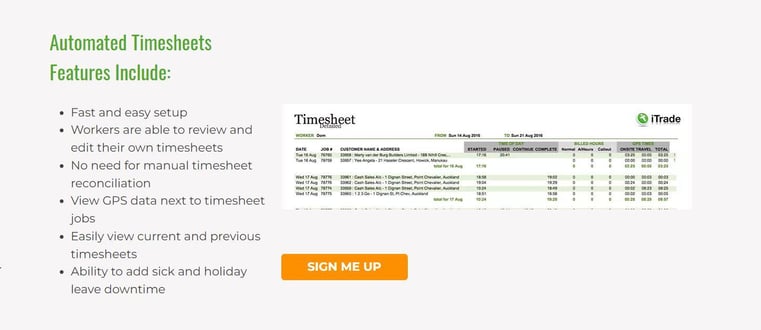 Material Management: make sure that you always have the materials to have the jobs done with the material management solutions where you can set up, import supplier price books with ease.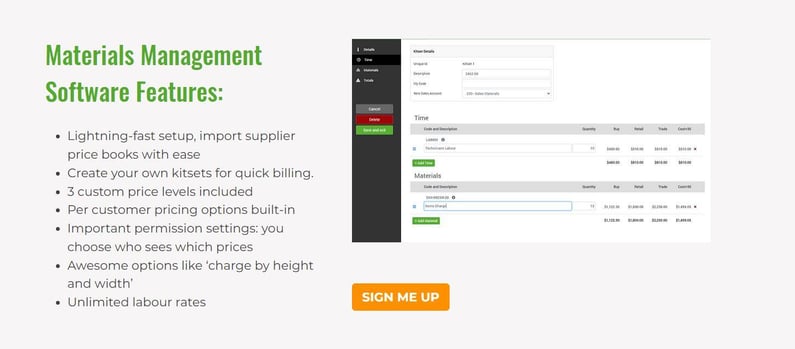 Pricing
The great thing about iTrade is that you only pay for field staff, non-field managers and administrators are always free!
However, iTrade is not a cutdown or basic system by any means.
​Although iTrade job management software for Tradesman has been designed to look very simple and be very logical + easy to follow, those that want to can drill down into all the various module options and make full use of the high end features.
iTrade's pricing is perfect for small to medium firms, as well as large corporates. iTrade has been developed in a way that has no limits on the number of dispatchers and field workers.
For example, you could have 20 dispatchers managing 20 field workers each, with each dispatcher having a custom view including only the staff they are managing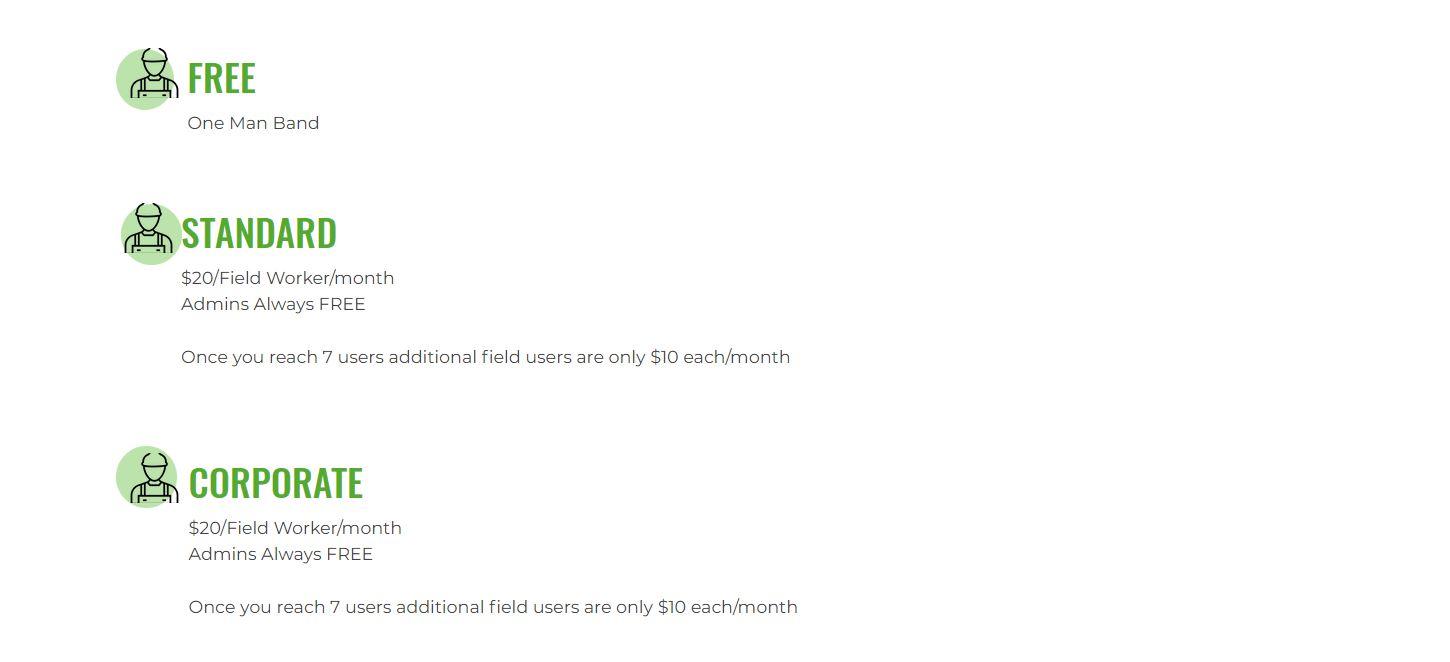 "We get told that iTrade is the most simple, easy to use system for tradies, even when the workers are not technology minded.
That's because iTrade was built and tested by tradesmen before being released to the public."
Accello
Overview
Accello is also more than simply quoting app. What they offer is a solution for the operation of the whole business, from sale to project management to billing, and reports.
Designed with small service businesses in mind, Accelo unites all the disparate systems you're currently using and goes a step further, giving you insight into the overall health of your company in real-time.
Accello aim to help small and medium businesses automate the mundane aspects of your business, giving you back the time and resources to focus on billable work. In other words, the work you love.
Features and Benefits
Accello does not only create and send a quote for you, they support the entire sales system with a great variety of features.
Leverage templates and checklists to streamline repeatable sales processes and build a playbook for sales best practices.

In addition to quoting, Accellocan also help you with:
Projects: Managing client projects successfully with the ability to connect projects with other functions like sales, billing and analytics to greatly improve your understanding and knowledge of your clients and business growth.

Tickets: Ensure smaller, reactive client engagements are efficient and profitable with a service tracking platform that is lightweight enough to be easy and able to generate revenue.

Retainers: Expand one-off projects into ongoing work to elevate the service and value to clients, strengthen partnerships and increase predictable revenue.

Billing: A fully integrated billing process to easily and accurately manage timesheets, track employee time and budget, and ensure clients are charged for all billable time.

Reports: Turn-key, out-of-the-box reports and dashboards make it easy to learn, use and consume by both technical and non-technical users.

Pricing
There are two subscription options with Accello, both based on the number of users and products.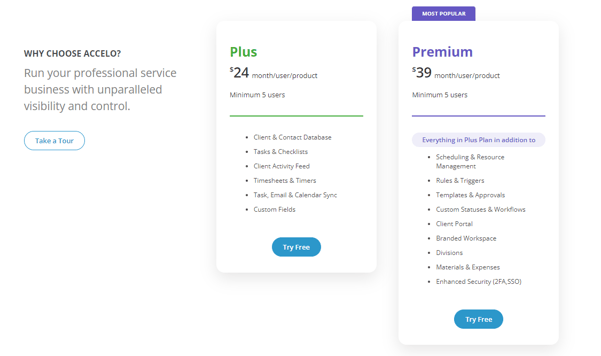 Accelo is one of a new generation of startups that harness the power of the cloud to run a small business.
By focusing on the professional service sector - accountants, architects, engineers, designers, consultants, MSPs and more - they're making it possible for small businesses to not just catch up to, but overtake, the big boys - and for a fraction of the cost.
Today, Accelo streamlines operations and increases the profitability of thousands of businesses in over 86 countries, including the United States, the United Kingdom, France, Germany, Hong Kong, Singapore, Canada, New Zealand, Croatia, Mexico, China, and Australia.
Their expanding team of 100+ is spread across three offices, from their headquarters in San Francisco, to the growing tech hub of Denver, and to their office for engineering, research, and development in Wollongong, Australia.
Which is the one for your business?
These 3 options all sound excellent, but which one should you subscribe to?
Well, there's no one answer for this, as each of them has a different focus and strength, made for different businesses. So the question is then what type of business are you?
If the services or products you offer involve a lot of visual elements and the customer needs to see it before they buy or discuss it with you as they enquire then Quotient might be the one for you.
If you are a trades business looking for a solution that will help you get more jobs done effectively and efficiently, iTrade will definitely meet your expectations!
If you are a small business, and your business model is a bit more complex with a lot of projects and tasks to manage, Accello got you covered with their variety of products and features.
Conclusion
Quoting is more than just sending a price list to your customers.
It is the first impression you make and shows your customer how good a business you are. So using a quoting app helps make it easier to impress your customers, thereby maximising the chances you get the job!
So it's time to re-think the way you quote, have a review to find out which solution you are looking for and start the growth with one of these 3 quoting apps!